When the player first logs into Obey Me! during their birthday, they will be greeted by this message:

Fear not, for this meeting has been called so that everyone can take part in the celebration! The birthday rewards are many, and details about them are below.
Birthday Nightmare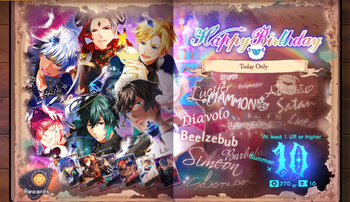 This special birthday nightmare summons cards from the Chapter A nightmare with one key difference: a x10 summon includes a guaranteed UR demon card!
Players are only allowed one x10 summon from this nightmare, and it does still cost the standard 10 demon vouchers or 270 devil points.
Present List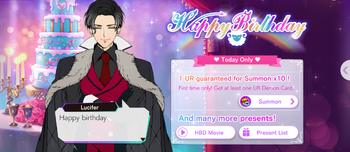 Happy Birthday Movie

A short birthday movie in which the demon brothers wish the player a happy birthday.
Devil's Tree SPECIAL

"Unlock spaces in Devil's Tree for only half the cost."

Note that only the Grimm cost is halved; item requirements remain the same.

Unlocking a card's Max Level Cap - while not advertised - is also only half the cost.

As with Devil's Tree spaces, only the Grimm cost is halved; item requirements remain the same.
Surprise Guest SPECIAL

"You will get exclusive reactions from your Surprise Guest!"
"You can receive exclusive presents from the demon brothers!"

More information is needed on what these exclusive presents are and how to obtain them. Note that receiving these presents is not guaranteed.
One of the potential presents is 30 Devil Points given by the character on the player's homescreen.
Birthday Calls and Chats

Throughout the day, each of the seven demon brothers will call the player to wish them a happy birthday. There are two sets of calls: one for the player's first in-game birthday, and another set for the second birthday.

The exception to this is Belphegor, who will only call on the player's second birthday.

On the player's first in-game birthday, they will also receive chats from The Royals, The Angels, and Solomon.
Presents in the Mail

The player will receive the items below in their mailbox.