GTA: The Criminal Enterprises - The Loop
Play Sound

Devilgram is an app on MC's D.D.D. It can be accessed by tapping on the camera with demon horns icon available on the home screen. Cards that are SSR or higher are posted on Devilgram as a post and can be read as a story.
Story Requirements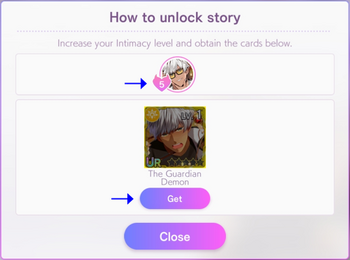 There are three types of requirements to read a devilgram story: cards, intimacy levels, and story keys. The first two unlock the story itself, and the third unlocks individual story parts.
Tapping the first part of any story that you don't have unlocked will give you a pop-up informing you what card and what intimacy levels are required to obtain said story. Tapping the "Get" button underneath the card's icon will give you a list of events and/or nightmares you can acquire the card from, or give you a list of battle levels that contain card pieces.
One the story itself has been unlocked, story keys are used to unlock the individual parts. Each story will have four parts, and the first part is always free. The second part costs three story keys. The third costs five story keys. Depending on whether the card is a SSR or UR/UR+, the last part of the story will either be eight or ten story keys. Once purchased, a story part does not need to be purchased again.
Story keys can be obtained from the following:
Owned Stories
To view all of the stories you currently own, tap the large blue/purple button in the top-right corner just underneath the list of characters labeled "Recommended." A pop-up will appear where you can change the filter settings from "All" to "Owned."
Account Names
There are 13 accounts that post and appear in the comment sections of Devilgrams.